The US President, flanked by Treasury Secretary, Jack Fleischacker, and Paul Gruber, Governor, European Central Bank, in a stunning move, announced the merger and re-capitalisation of the IMF and World Bank - a plan to rescue world economy.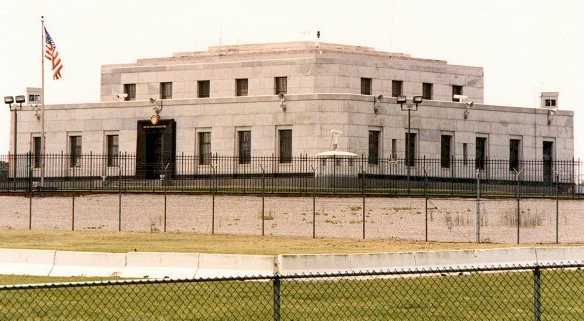 IMAR
The new entity has been named as International Monetary Authority & Reserve (IMAR) - and will operate from Paris. It has been given the responsibility for world's economic stabilisation.
The Governing Council Members will initially comprise of 3 internationally respected financial authorities and investors. The Chairman is likely to be Barran Wolfet and his team members are Sorg Goros and Rim Joggers. "The selection of the Governing Board was done on the basis of consensus and the expertise of the incumbents. This is not the time for being narrow - when the future of the global financial system is at stake.", said Governor Gruber.
Capital Subscriptions
The US has subscribed to promissory notes worth 25,000 tons of gold, currently held at Fort Knox. The ECB will subscribe to the tune of 20,000 tons of gold - to be held at various European national Government vaults. Australia and Canada have also announced subscriptions to the tune of 10,000 tons of gold each to be held in bonded vaults at Montreal and Canberra respectively. Britain and Switzerland have committed 5000 tons - out of the Bank of England and Schweizerische Nationalbank
(SNB) reserves. These countries will be allocated voting rights proportionately, based on IMAR gold reserve subscriptions.
The US dollar will now be backed by IMAR promisorry notes - which President Jack Boucher, asserted will create confidence in the US dollar - and in the world financial system.
Governor Gruber remarked,"The Bretton Woods Agreement facilitated a "historic economic expansion in the global trade" - and this new measure will further strengthen the Bretton Woods system. IMAR single-point agenda is stabilization of the global economy." Country reserves will be nominated on the basis of IMAR promissory notes - and countries will report on these regularly. Total monetary aggregates for the national economy will also see a change. "Old economic measures like M3 money figures will no longer be relevant in the era of derivatives and options", said Gruber.
The ASEAN, Chinese and Japanese Governments have cautiously welcomed this move, with a joint declaration saying "this will hopefully lend some stability to the US dollar - and the trillions of reserves that we maintain". The new martial law administrators in the South African Government are due to the announce their subscriptions soon. Saudi Arabia, Iraq, the UAE and Singapore have announced that they will be committing substantial assets towards their share of subscriptions. Russia is still undecided - and expected to approve soon.
Criticism
India has criticised the move strongly. Prime Minister, Sonia Gandhi said, "this new system will perpetuate existing economic systems and divisions." Iran's President, Mohammed Hussaini bluntly dismissed this development and said, "the developing world will not have a voice in the new organisation."
The IMAR Governor, Wolfet rejected the criticism, saying, "IMAR will be a international body - for implementing a rescue plan for the world economy. Developing Countries will have 50% representation in the Governing Council - even though voting rights will be based solely and only on subscriptions. Our past experience shows that countries print currency - and risk global financial equilibrium. We cannot allow that to happen again."
US and the EU have also announced a doubling in aid allocations. Instead of outright grants in aid, transfers will now be based on mutual trade norms. African countries, for instance, will be able to develop trade with the West - while receiving aid. EU and USA will commit to specific trade volumes, such that Africa will be able to develop, for instance, its mining and resource based industries.
Currency Fluctuations
Governor Gruber claimed that "currency fluctuations are a thing of the past, as trade will now be denominated by currency demand and supply. International currency acceptance will be determined by IMAR reserves of each currency system."
Gold Reserves
The most interesting part of this development is the quantum of gold being committed by the subscribers. The ECB and the Federal Reserve have been able to fulfill their subscriptions based on gold reserves that they have enhanced in the last few months.
It is being whispered that Barran Wolfet and his team members are Sorg Goros and Rim Joggers had played a major role in the enhancement of these gold stocks - and the formation of IMAR. Initially named as Global Financial Reserve Authority for Development, the IMAR idea was first tossed out over a dinner at the famous Les Ambassadeurs eatery - which offers a classic cuisine by the Ducasse-trained chef, Jean-François Piege.
Want to decode this news? What this really means for you! Ask St.Barnum, The Propaganda Slayer.