Colonial Institutions
On April 1st, 1934, while the 'Squeeze India' campaign was under execution - choreographed by Montagu Norman, Neville Chamberlain, Winston Churchill (some sickness … some racism) Lord Willingdon, India's banking authority was set up.
The objective of setting up RBI - this colonial money authority, was to devise a policy structure for creating a 'money famine' needed by colonial British masters. From that April Fool's day till now, RBI character has not changed. RBI resorts to creating these money famines every few years - even today. The last RBI 'money famine' in 1996 saw inter-corporate interest rates shoot to 40% - and a recession that lasted for 4 years.
RBI remains isolated, out of touch with the India - and looks at India through colonial viewing glasses. The tragedy is that RBI is not alone. The IAS (a successor to the colonial ICS) and the Planning Commission are the other two. Compare that with the brilliant track record of modern Indian regulators and organizations like the SEBI, TRAI.

Modern Indian Institutions
Till 1990-95 Indian stock trading was largely done done through the open outcry system, physical paper settlements, long settlement periods - and rampant manipulation. Indian stock trading systems was a closed club - and did not attract any serious investors.
Between, 1900-1995, SEBI, NSE, BSE and NSDL designed and managed the transition from the physical platform with the open outcry system to a complete electronic trading platform of the NSE and BSE.
Today, the BSE/NSE trading system is the most advanced in the world - in terms of trade volumes, transaction volumes and automation. The NSE does more trades in a day than any other exchange in the world. Compared to the less than 20 lakh (2.0 million) trades on the NASDAQ, the NSE did nearly 70 lakh (7.0 million) transactions(on 3rd January 2008). The BSE (Mumbai Stock Exchange) has more than 6,000 companies listed - equalling NYSE and NASDAQ combined.
All this when less than 5% of Indians are investors in equities.
Telecom In India
By 2000, India had less than 4 crore phones. Most of the 100 crore (1billion) Indians were unconnected - and disconnected from the world. Governments monopolies, BSNL and MTNL, ruled the roost. Pricing was based on scarcity - rather than any commercial costing or margin strategy.
Mobile phone services had just been introduced - and were exorbitantly priced. Cell phones were status symbols, out of reach for 'middle class' Indians too. With low subscriber base and high prices, it seemed like the investments made in the mobile networks would have to be written off. TRAI, the telecom regulator was finding its feet - and being pulled in many directions by lobbyists. It looked like a classic vicious cycle - which could not be broken.
By 2001, the BJP led Government came to power. The telecom regulator in a series of bold moves, changed policies - and equations. Tariffs declined by nearly 5000% - from roughly 50 cents to 1 cent per minute. User base ballooned to 20 crores - from 4 crores. In 7 years more telecom users were added than in the previous 70 years. For the first time, the poor in India are beginning to benefit from technology.
India today is one of the fastest growing markets - and one of the largest. It is dominated by profitable operators, providing possibly the lowest tariffs in the world. The next major test for TRAI is the phasing in the new slate of operators who have been granted licences.
All this when just 20% of India is connected.
Indian Railways
After the boycott of the Simon Commission, from 1927, and the death of Lala Lajpat Rai, it was clear (especially to the British) that their days were numbered. Facing problems at home and abroad, the significant British interest in India was extraction of remaining wealth in Indian hands.
A prime example of that was the railways.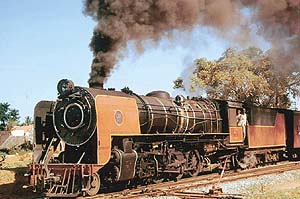 During WW2, nearly 40% rolling stock from India was diverted to the Middle East. More than 50% of the track system was the outdated metre gauge and narrow gauge. Track systems were nearly a century old. 40% of the railway system went to Pakistan. 32 of the forty-two separate railway systems operating in India, were owned by the former Indian princely states. So much for the British gift of railways to India. More than 8000 outdated steam engines were used as motive power - and less than 20 diesel locomotives were in use.
Starved of investments and maintenance, the railways infrastructure at the time of British departure was crumbling. Colonial British (subsequently, the Indian also) response was to affix the blame onto the employee at the lowest rung and move onto the next one accident.
Post Independent India continued with this practice - till LB Shastri called a halt to this. In 1956, the Madras-Tuticorin express plunged into a river when when a bridge at Ariyalur (Tamil Nadu) was washed away in floods. 144 (some records suggest 156) passengers died. He resigned from the Union Cabinet - claiming moral responsibility for the railway accident.
This resignation saw LB Shastri become a political legend. This (resignation) also changed the mindset of the Indian Railways. After fresh elections of 1957, one year later, he was re-inducted into the Union Cabinet. Steadily, as railways infrastructure was upgraded, accidents decreased.
It took a non-Congress Government in 1977 to change the face of Indian Railways. Prof.Madhu Dandavate, the Railway Minister in the 1977 Janata Government started the railway renaissance in India. 3rd class railway travel was abolished. Wooden-slat seats were abolished. Cushioned 2nd class seating system was made minimum and standard. Train time tables were re-configured. Reservation systems improved. Railways started getting profitable.
The de-colonization of Indian Railways began effectively in 1977 - 30 years after British departure. Symbolically, that was also the year that the Rail Museum was set up. The progress after that has been remarkable. Today for a US$5, an Indian can travel for a 1000 km.
All this when only 25% of Indians travel by rail at least once a year.
New Paradigms
India needs new paradigms.
Unlike Indian Railways, RBI's colonial paradigms are a drag on India - and is beyond redemption.
The IAS, is too imperial for any use to India. The IAS with an overwhelming colonial bias towards creating a 'compliance over-load' on the back of every Indian has resulted in a Frankenstein of a corruption prone administration.
Planning Commission's signal failures over the last 50 years make them irrelvant - except as roadblocks.