Private Gold Reserves - India (2ndlook model)
Quiet Progress
India and the World
It should not escape notice that gold and silver, after circulating in every other quarter of the globe, come at length to be absorbed in Hindostan. (from Travels in the Mogul Empire By François Bernier, Irving Brock)
"in exchange for textiles, spices and other Indian agricultural and industrial products, merchants from across Europe and Asia flooded India's bazaar's with dinars, tangas, ducats, guilders, reals, francs, rixdollars (reichthalers) and countless other varieties of coins, all of which were minted into rupees. (from The Indian diaspora in Central Asia and its trade, 1550-1900 By Scott Cameron Levi)
Moving away from Central Asia, the general European economy, was simple -
The Pre-WW2 Currency Crisis
Crash in silver prices
US silver coinage was being depreciated due to increasing supplies of silver.
So, finally, it was the Indian native who financed the WW1, who paid the price!
Modern restrictions on gold exports to India
in the spring of 1926, when Norman induced Strong to support him in fiercely opposing a plan of Sir Basil Blackett's to establish a full gold-coin standard in India. Strong went to the length of traveling to England to testify against the measure, and was backed up by Andrew Mellon and aided by economists Professor Oliver M.W. Sprague of Harvard, Jacob Hollander of Johns Hopkins, and W. Randolph Burgess and Robert Warren of the New York Reserve Bank. The American experts warned that the ensuing gold drain to India would cause deflation in other countries (i.e., reveal their existing over-inflation) (from

America's Great Depression By Murray N. Rothbard, Chapter 5, The Development of the Inflation; Ludwig von Mises Institute

)
How millions of Indians died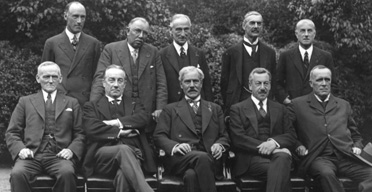 Cabinet ministers, August 1931. Back row
(left to right): C Lister, J Thomas, Rufus Isaacs, (Lord Reading),
Neville Chamberlain and S Hoare (Viscount Templewood).
Front row (left to right): Philip Snowdon, Stanley Baldwin,
prime minister Ramsay MacDonald, H Samuel and Lord Stanley.
Photograph -Courtesy Guardin, UK, Source: Getty Images
Crisis in Britain
protests by Gandhiji, trade bodies and merchants and
threats of
resignation by the Viceroy and his Executive Council
, the resulting
'money famine' (page 155
) had the
Lord Willingdon ecstatically say
'
Indians are disgorging gold
.' Indians have a different reason to revile
Neville Chamberlain, who with great satisfaction said
"…The astonishing gold mine that we have discovered in India's hordes has put us in clover …"
after impoverishment of the
Indian serf
.
More currency, less gold. Drawing courtesy - imf.org
The Nixon Chop
From the 1960-1990, the Big Issue for people across large parts of the world was Big Crime. The 1960-1990 peak in organized crime, globally, is interesting due to the synchronized time frames - across USA, Europe and India.
In India, the rise of the underworld was delayed by a decade - as was its decline. India's underworld, centred in Mumbai, at its peak, intruded into trade unions, films and entertainment, gambling, real estate, extortion and smuggling. The specter of Dawood Ibrahim haunts India-Pakistan Governmental relations - even today.
All this was made possible by the Indian hawala system of money exchange. Hawala made money transfers safe, instantaneous, at a low cost. Traditional Indian ships from a thousand ports in Goa, Maharashtra and Gujarat sailed with this contraband and brought back gold.
Drug production centres surround India -
Golden Triangle & Golden Crescent
The countries comprising these Golden Triangle /Crescent are India's neighbours. The Indian underworld transported drugs through India. These drug shipments originated, were acquired, grown and traded from the Golden Crescent and the Golden Triangle.
The US eliminated gold ownership restrictions in 1975. India followed. In 1992, India started its first hesitant steps towards legalizing gold imports. By 1995, these import control laws had been diluted to near non-existence. With the dilution of restrictions on gold imports came the abatement in the biggest crime wave in modern history.
Indian gold consumption (Click for larger image.).
So, why this desperate poverty
Is the US likely to give up the central role?
Unlikely! Let me correct myself! Pretty damn unlikely!!
What are they likely to do! Some of the older measures by which gold was transferred from the old (and the new) world to Western world are no longer possible.
Mask purchases
Build up gold positions
Take physical possession of gold (Avoid Czech Gold, Montagu Norman & BIS Scam)
Look at a positive outcome to a war scenario
then that country will be able to bolster their gold reserves position by: -
About 10,000-15,000 tons
Limit the cost of purchase
Make it economically unviable for anyone else to match them
From an Indian standpoint
Importantly: -
Is India in a position to militarily defend these reserves
Does the GOI and the RBI have any strategic intent vis-a-vis gold
Gold and War
This short look at Western history makes the linkage between the pattern of gold ownership and war becomes clear.
Regional gold holdings
What Should We Do With Gold
Just sell it to people. From all the countries of the world.
What we should not do?
Good Ole' Gold Standard
In short a magic bullet.
Two years ago …
its (gold) reserves by 454 tons to 1,054 tons through domestic purchases and refining scrap metal,

Hu Xiaolian

, head of

the State Administration of Foreign Exchange

, said in an interview with the Xinhua News Agency today. China, the world's biggest gold producer, has increased its holdings before, Hu said in the interview carried on the administration Web Site. They rose from 394 tons to 500 tons in 2001 and to 600 tons in 2003. The U.S. has the world's biggest gold holdings at 8,134 tons, followed by Germany with 3,413 tons, World Gold Council data show. France has 2,487 tons and Italy 2,452 tons, while the IMF has 3,217 tons, according to the council.
The increase makes China the world's fifth-largest holder of gold, just ahead of Switzerland, and among the six nations plus the International Monetary Fund that have reserves of more than 1,000 metric tons. Although Hu did not elaborate on where China had sourced the additional bullion, her comments were interpreted as meaning they came from domestic sources and may included refining of scrap metal. Traders also say the gold was accumulated systematically over a number of years. Last year China ranked as the world's largest gold producer with 12.2% of world output, equivalent to 288 metric tons. The U.S. ranked second with a 9.9% share, or 234 metric tons.
China should increase its gold reserve from 600 tons to about 2,500 tons in a short term and to 3,000 tons in a long term to cope with the versatile exchange rate risks, said Teng Tai, an economist of China Galaxy Securities Company.