A war of a different kind
During the 1857 War against the colonial rule of Britain in India, unable to gain military advantage, British armed forces started using Indian human populations as human shield. For each military success of the Indian armies, the British armies exacted retribution on the local non-combatant populations.
This reign of terror and brutality on home populations disarmed Indian armies and ended the war. A impressive work on this period is by Amaresh Misra – a film critic and journalist, who was moved sufficiently to research for a few years, because, "Since 1957, no Indian has written a comprehensive account of the Revolt. Indian historians have done a limited work". Another step in this direction is Parag Tope's forth coming book, Operation Red Lotus, on the life and wars of Tatiya Tope.
And Britain started a more insidious war – a propaganda war. History started getting twisted, perverted, mutilated – and over the next 100 years, Indian and world history was changed beyond recognition.
Let the games begin
After 1857, racist propaganda and cultural baggage came covertly – to gain better traction at home and in the colonies. For instance, Priya Joshi, a researcher shows that after 1857, book shipments from Britain to India increased by a factor of three.
The death of Semiramis
In this propaganda campaign, the most interesting bit is the cold-blooded murder of the historical Semiramis. Readers will find that Semiramis as an Assyrian Queen till the 1850-60 period Western histories.
Edward Degas and Guercine made Semiramis the subject of their paintings. Calderon used her character in his plays. Mozart died before he could complete his melodrama based on Semiramis. A 16th century painter, Philip Galle used Semiramis and Babylon as the subjects of his paintings.
Mired in legend and prejudice, Semiramis is discredited in modern Western history – especially starting from 1853-1857. Her very existence denied, accused of incest, Semiramis has been tarred and condemned to the rubbish heap of modern history – and the Bible. Semiramis established an empire that lasted, practically till WW1. Some 300 years, after the reign of Semiramis, the Assyrian Empire passed into Persian hands. From the Persians, into Alexander's lap.
Suddenly, from 1860 onwards, Western history started treating Semiramis as a wanton, decadent, probably mythical, a perverted sluttish character.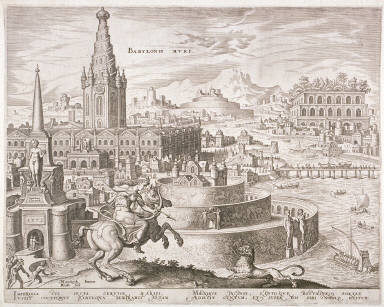 The reason. Semiramis biggest defeat was at the hands of Indians. And soon after her defeat was the defeat of Cyrus the Great at the hands of Indians again. And before that were the Battles of Meggido and Kadesh, in which Indic armies confronted the Slave Empire of the Egypt. In colonial periods such an Indian history would have been very inconvenient for the Raj.
The Alexander mythos
Alexander's raid of the Persian Achaemenid Empire, finally turned out to be a overthrow of the Achaemenid dynasty, usurpers of the Assyrian Empire. Unable to make headway into India, as the Indian Brahmins had helped and influenced Indian princes to organize and support the Indian war against Alexander. Greek sources cite, after this realization, at 'The City of Brahmans', Alexander massacred an estimated 8000-10,000 of these non-combatant Brahmans.
Alexander's massacres in India, a colonial historian informs us (without naming a source), earned him an "epithet … assigned (to) him by the Brahmins of India, The Mighty Murderer." This Indian Brahmanic characterization of Alexander, commonly taught to English schoolchildren and present in English college texts, as The Mighty Murderer, curiously disappeared from Western-English texts soon after 1860 – and instead now "a positive rose-tinted aura surrounds Alexander" … !
Since Indian texts were completely silent about the very existence of Alexander, colonial Western historians had a free run. Using hagiographic Greek texts as the base, Alexander became the conqueror of the world.
Max Mueller – Son of Hegel
Behind this propaganda was possibly a man who is much admired (wrongly) in India today – Max Mueller. For instance in Max Muller's colonial propagandist history, when it comes to Indian triumphs over Semiramis, she becomes half legendary. Yet in another book, the same Semiramis becomes one of 'the great conquerors of antiquity.' In a matter of a few pages, he dismisses Indian history completely, in a half-Hegelian manner.
Aiding Max Mueller, English poets were press ganged into this propaganda war. Matthew Arnold wrote how, India, a 'nation of philosophers', from
"The East bowed low before the blast
In patient, deep disdain,
She let the legions thunder past,
And plunged in thought again."
Matthew Arnold's influence in Indian education can be gauged by the fact that Indian-English language poetry was for long called derisively as "Matthew Arnold in a Saree". Just before 1857 War, the works of another 'influential' poet, John Keats, became popular. In his hubristic haze, Keats wrote how,
The kings of Ind their jewel-sceptres vail,
And from their treasures scatter pearled hail;
Great Brahma from his mystic heaven groans,
And all his priesthood moans,
Before young Bacchus' eye-wink turning pale.
Much of modern history's debates and questions were born during this time – verily created to wage a propaganda war against India – and the world. India's cultural stature in the pantheon of world's societies was reduced to a minimal role – and the Greek Miracle was born.
In the dying days of the Raj
This propaganda war continued well for another 100 years. In the middle of WW2, Britain pulled out a general from the Italian theatre of war and sent him to India – to head colonial India archaeological operations.
One evening in early August 1943, Brigadier General Mortimer Wheeler was resting in his tent after a long day of poring over maps, drawing up plans for invasion of Siciliy. Mortimer Wheeler was invited to become the director general of archaeology by the India Office of the British government in its last years of rule in South Asia … Summoning a general from the battlefields of Europe was an extraordinary measure, an admission both of the desperate condition of Indian archaeology and an acknowledgment of its vital importance. (from The Strides of Vishnu: Hindu Culture … – Google Books).
Amazing!
Why would the glorious British Empire, on which the sun never set, struggling for its very existence, in the middle of WW2, suddenly pull a general back from the battlefield – and put him into archaeology! That too, Indian archaeology. Not Egyptian, not Greek! Especially, when it was clear, that they would be departing from India – sooner rather than later.
Considering what theories came from Mortimer Wheeler's rather fertile 'imagination' and his rigourous archaeological process, in hindsight, from a Western perspective, this was sound decision. There may be the facile answer that the British were, after all 'searching for history and truth'.
And it led Mortimer Wheeler to remark,
"They demonstrate with astonishing clarity the extent to which the brief transit of Alexander did in fact Hellenize almost instantly vast tracts of Asia populated previously by nomads or semi-nomads and villagers"
It is this one incident which possibly contains answers to many unanswered questions like: -
The amount of energy expended by the West in defending the Aryan Invasion /Migration Theory,
The lack of access to Indian scholars of the archaeological sites in Pakistan
The many myths in Indian history
The clues to the partition of India
The dating problems
et al.
Just why did the world's foremost imperial power, struggling for its very existence, suddenly pull a general from the battle field, in the middle of WW2 – and put him onto the job of digging dirt.
Only one explanation fits – it had to be a struggle for its own existence at a higher level!