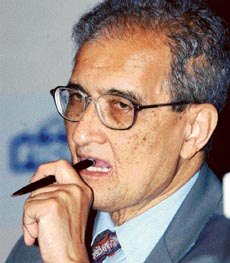 Indic Justice ...
The other apparently unrealted 'event' is the much promoted and publicised book, The Idea of Justice by Amartya Sen, has no clue about justice (at least on Indic thoughts on justice). Apart from a few token mentions about Ashoka Maurya and Akbar Moghul, he has very little to say about Indic thought on justice. But he speaks very volubly on Western thinkers and thought on justice.
The wise king delivers justice

To bring out the contrast, one has only to read the Biblical story of King Solomon's justice (where two prostitutes claimed the surviving baby as theirs). The point worth noting is that this paradigm of justice centralizes solutions and concentrates power in the hands of some central authorities.
So, whether it King Solomon or Caliph Haroun Al Rashid (the King in disguise), or the Turkish Çapanoglu Ahmet Pasha (of the justice bell fame which even a donkey could ring to summon the king for justice) - the model was the all-knowing King.
Going back earlier, the Desert Bloc model of seeking justice was captured in the story of Tehuti-nekht (the oppressive overseer); a 'sekhti' (the poor salt-trader) the 'clever' Meruitensa (The Grand Vizier /Supreme Judge) and The Wise Pharoah Nebkanra.
All quiet on the Indian front ...
In more than 1000 Indic books, claiming to record more than 10,000 years of history, there is no instance of any dispute reaching the King. The longest ancient epic in the world, The Mahabharata has no incident where a private dispute reached Yudhisthir (though a mongoose could lecture the King about sacrifices and yagnas). There was never any case of private dispute, recorded in the Ramayana, that reached Ramachandra (though a dhobi could 'inform' the king about bazaar talk regarding the Queen Sita). Even a poor Brahman, Kautsa, could reach King Raghu for help in the disbursal of guru-dakshina गुरु दक्षिणा।

Is it that Indians were 'saints' and did not have private disputes? Were they so civilized that they could solve all disputes by talking to each other? Is it that Indian kings were not bothered about delivery of justice!
It gets worse! No prisons ...
Modern econometric modelling has an interesting perspective on Indian economy where research shows that for much of the last 1000 years, India has been a significant economic power till the 1900.
China and India, this analysis estimates, for the last 1000 years, accounted for 50% of the world economy. Statistical analyses showed India with a world trade share of 25% for much of the 500 years during 1400-1900. With this prosperity, the most interesting (historical) aspect of the criminal management story is the absence of any surviving mass jails in India prior to colonial India.
Without prisons, just how did pre-colonial India, one of the largest (and most prosperous) populations of the world, deal with crime and criminals?
But then crime rate in India must be really high ...
And have the lowest prison population in the world? How can India have such a low prison population, with a poor police-to-population ratio and a crime rate which is not above the average – in spite of a large civilian gun population.
All the 5 indices (below) create a bias for a lawless Indian society and rampant crime. With these five indices, namely: -
Police to population ratio ('increase police force').


Prison population ('put more criminals behind bars')


Capital punishment ('kill enough criminals to instill fear')


Poverty ('it is poverty which the root of all crime')


Gun ownership ('more guns means more crime')
against a stable social system, how does India manage low-to-average crime rates. More than 2000 years ago, Megasthenes a Greek traveller to India wrote,
Theft is of very rare occurrence. Megasthenes says that those who were in the camp of Sandrakottos, wherein lay 400,000 men, found that the thefts reported on any one day did not exceed the value of two hundred drachmae, and this among a people who have no written laws
Historically, trade in India is governed by शुभ लाभ' shubh labh' – and hence Indians have not been major players in drugs proliferation (unlike Japan, the West in which traded Opium in Korea and China) or in slave trade
In modern times, though India is a power in computing industry, India is not a big player in spamming or in software virus. In August 2008, there was hoax story, which alleged that an Indian hacker, had broken into a credit card database – and sold to the European underworld – and some 'experts' feared that this would spark of a crime wave across Europe.
The Indic model of justice, crime and law
Evidence of a different Indic system goes far back in history - to Lipit Ishtar, Hittite laws, Hammurabi et al. As far back as 4000 years back in history. Indian kings did not deliver justice. It was done at the local level by panchayats पंचायत. Indian justice systems did not rely on imprisonment or executions or the police to control crime!
The answer - the world's most stable marriage system and the extended family-social structures took care of the wayward.